Aku and Topi – towards the goals together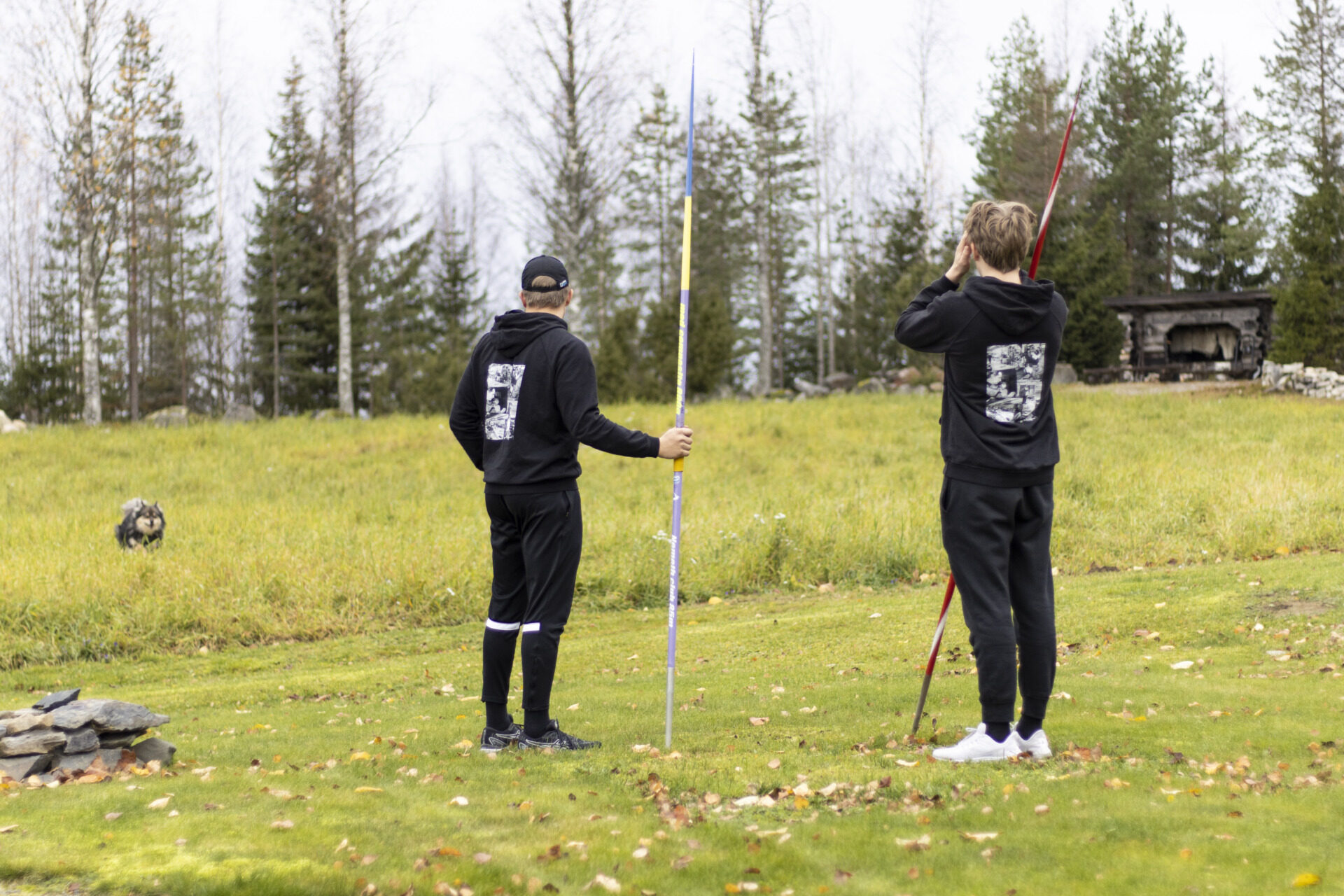 When we arrive at the home of Aku (19) and Topi (16) Parviainen, we are received in the happiest of ways with a very excited dog. The Parviainen brothers are very calm and polite instead, while we discuss their careers in sports. The brothers both compete in javelin throw in Finland, as well as in international arenas.
The boys sparked interest in javelin throw when they were very young. There was a lot of space to play around outside, and javelins were lying around due to the athletics careers of their father and uncle. They both competed in the Finnish and World championships. According to Aku and Topi, at first throwing the javelins around was just for fun and laughs. That's the best way to learn! When Aku reached middle school, the idea of training with a purpose came to life. The brothers have been very comfortable in the sport especially due to their athletic natures, and it is clear that they are in this together. They train together more often than not!
The goals are high, and especially Aku tells us that he is very competitive. When we asked more about it, his answer was very clear. "The uncomfortableness of losing sometimes motivates even more than the joy of winning." We think that is quite an honest summary! Topi is also motivated by succeeding, but he also values the future opportunities as a professional athlete. Their own development and the results of tireless work are an important motivating factor to them both.
At the moment, Aku competes in the men's series in javelin throw both in Finland and in the U20 series internationally. Topi will be competing in the U18 series for a while more. The goals for them both are very concrete in the near future, as well as further ahead in their careers. Aku is reaching for a result of more than 80 metres in the next couple of years, but his long-term goal is clear: the Olympic gold. While Topi competes in a different series with a slightly lighter javelin, he aims for breaking the world record. With the men's javelin, he also wants to break the magical 80-metre limit. Topi highlights the importance of healthy seasons as well. Javelin throw is physically demanding. When launching javelins with a lot of force, even the slightest mistake can cause injuries that damage the season.
The collaboration with Ouneva Group is very important for Aku and Topi. We have been supporting their athletics society for many years. The brothers were clear, that without our support, many javelins would have stayed in the retailers' shelves. The training and competitions have never been at stake due to equipment. We are very happy to be with the boys on their journey towards their futures as professional athletes!
You can find Aku and Topi on Instagram @akuparviainen_ ja @topiparviainen