New acquintances at Ouneva Group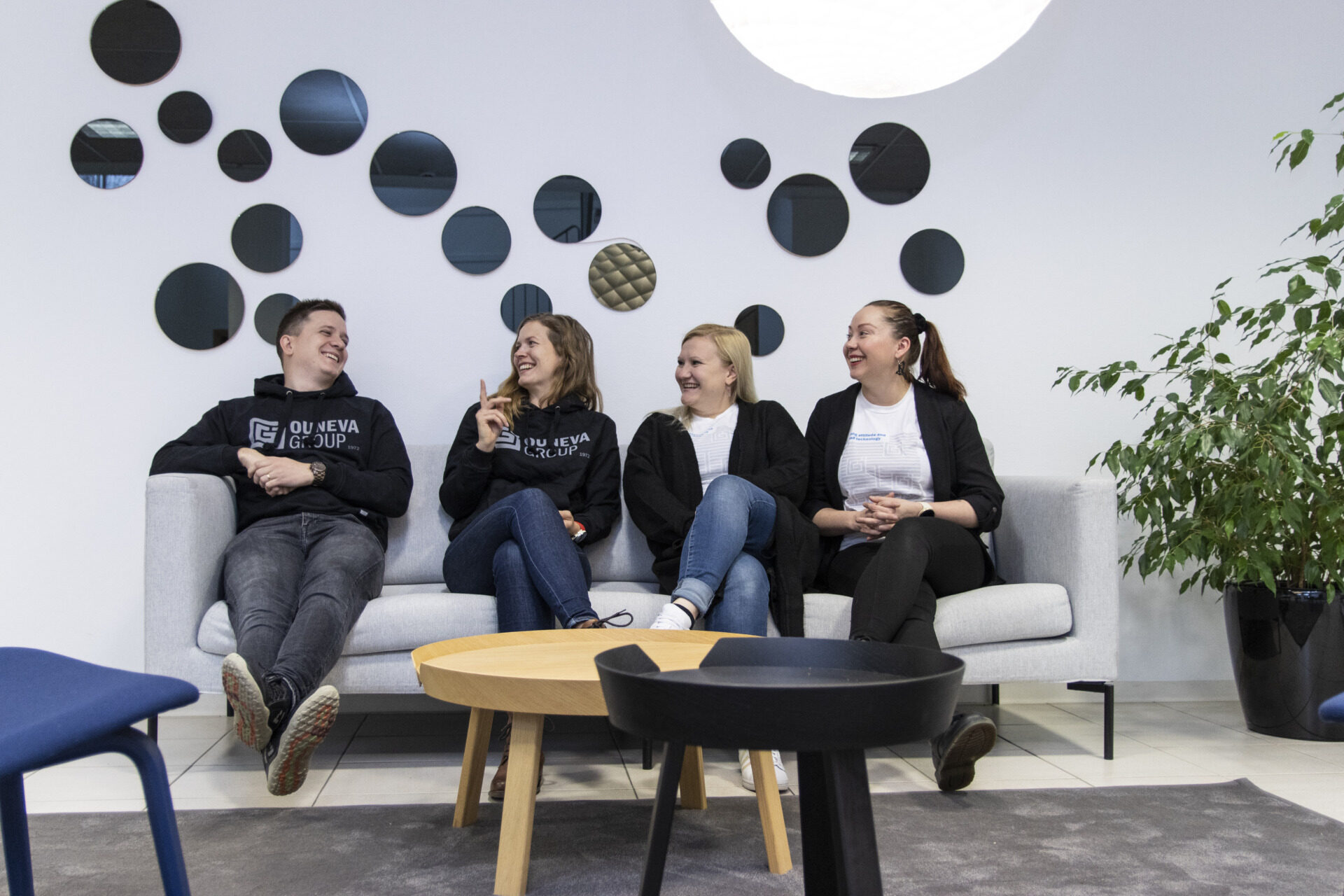 Due to our steady growth, our need for workforce has also been growing. New roles have also been created, and we have found suitable professionals to our community. We interviewed a few of them about how their work has been going and how they like our community! The people in the photo from left to right: Joaquin, Sini, Meiju and Mari.
Mari, HR specialist
"I have felt very comfortable at Ouneva Group! The job description matched my expectations, and it has been a pleasure to develop HR-matters broadly! My tasks have been challenging in a good way and it's amazing to get to work with many different companies and people. I'm very proud that we now have a modern and comprehensive onboarding platform to use in helping our future professionals integrate into our community!"
Sini, Sustainability Specialist
"Time has flown for sure! The onboarding was intensive, but well implemented and during the process I got to see the whole operations of the Group. My role is completely new, now I've really internalized the structure of role and I get to work smoother. The role is very diverse and the broadness of the Group means there is many different ways of working, so there are no boring moments. The biggest achievement so far is calculating the carbon footprint of Ouneva Group. Now the year 2021 has been calculated and we get to start collecting data from the years to come. Then we see the development of some of our sustainability efforts."
Joaquin, Sales engineer
"The autumn has been traditionally busy, but at the same time everything has been very interesting! The projects I've been involved in have been nice and we really work hard for the best of our customers during. I've also been traveling in Finland for work and that has been intensive, but I've gotten to learn a lot and to meet so many kinds of people at the same time. The atmosphere around learning is great at Ouneva, and help is always there for you when you need it. There are no stupid questions. The working community is very nice, and the people who have been teaching me deserve a big thank you. I'm feeling happy and motivated about one customer project that I've been closely involved in, and we have reached the goal with a happy customer."
Meiju, HR assistant
"I have gotten to do diverse and nice tasks. The tasks have been "my things", so to say! As an HR assistant, I get to do all kinds of different tasks from practical arrangements to more creative projects. The HR team has a great teamwork spirit and together we have been working hard to develop our HR operations. My biggest achievement this year is definitely my participation in arranging the 50th anniversary celebrations for Ouneva Group. We also took part in a recruitment event, that went well and we were left with a great feeling from there!"
Interested in working with us? You can check our open positions and join our Talent Community here!